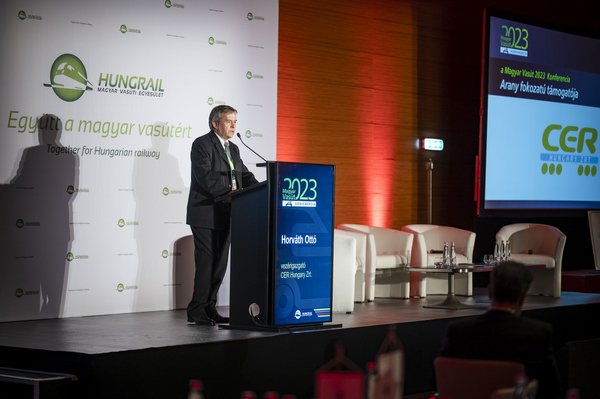 Hungrail organizes this event every year, where companies, managers and decision-makers related to railways and rail freight transport participate and give presentations. The topics of each conference are related to the current topics of the given period/year. This year, the organizers divided the conference into IV sections. As a gold-level partner, Ottó Horváth, CEO of CER Hungary Zrt., was able to give his welcome speech in the III section, the topic of which was "30% -2030".
"To focus on climate protection, to cope with the energy and transport crises, to strengthen the infrastructure, and to promote the advancement of modal shift in the field of rail freight transport. All of this has to be dealt with by entrepreneurial railway companies, track network operators, hauliers and decision-makers responsible for transport. The aim of the section is to highlight the role that rail single carriage transport can play in dealing with the above challenges and the impact on the operation of the entire sector of the support system aimed at strengthening the existing single carriage carriage, as well as the soon-to-be implemented network access fee surcharge release." – Hungrail
"I have not countless, but many thoughts, aligned with the title of the section. Everyone knows that 50 is half of 100 forints and that 15+15 is 30, but no one knows whether 30 will be 30 in 2030. Hungary is not in a bad position in terms of the achievement of this target value, however, the development of rail freight transport in other countries is also necessary, as approximately 80% of Hungarian rail freight transport is international, i.e. it crosses/comes across national borders. Market players cannot reach 30% on their own, market regulations with an appropriate effect are also necessary. The poet wrote, "One travels amazingly on the railway, and it is not difficult to understand what he meant." I am sure that if the infrastructure operators, carriers and freight forwarders involved in rail freight transport evaluate the railway in the same way as Petőfi did in 1847, then 30 can be 30 in seven years. Until then, however, there is a lot to do, because people still travel on railways today, but not in an amazing way." - emphasized Ottó Horváth in his speech.