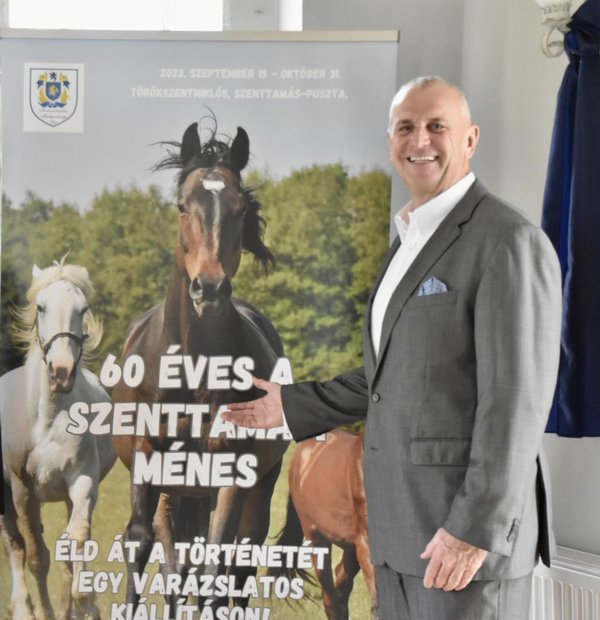 An exhibition of the extremely rich history of the life of the famous stud was opened in the Szenttamás Castle, located next to Törökszentmiklós.
At the exhibition organized on the occasion of the stud s 60th anniversary, horse race prizes won over the past six decades, relics and equestrian equipment were exhibited.
In the chapel hall of the Szenttamás Castle, visitors can also see many antique vases, goblets, and valuable paintings.
In 1963, an English thoroughbred stud was founded for the first time in Szenttamás-Imremajor, in the eastern region of Hungary. The first nine pregnant mares arrived on the nearby Kétpóra railway from the late GDR on Christmas day. From here we calculate the stud s birthday.
In the following decade, horses arrived from several parts of the world and thus the number of 35-40 broodmares was finalized.
Many famous racehorses came out of the Szenttamás stud, including Seebirk, a two-time derby winner in the 60s, Muskátli, a multiple award winner, Turbo, a star of the 80s, and Donatesso and Miss Turpan, prominent racehorses of the 2000s.
Today s well-known thoroughbreds are the Irish imports Black Pepper and Merci Star, on whose back the current best jockey in the world, Frankie Dettori, has also ridden for a race.
László Horváth, founder of the Almásy Kastély Foundation, president of Törökszentmiklós Mezőgazdasági Zrt., and Imre Markót, mayor of Törökszentmiklós gave a welcome speech at the exhibition, which was followed by a historical summary from Szuna Szabolcs, head of TM Zrt. s hunting division.
The exhibition can be visited free of charge between September 15 and October 31, but participation is subject to registration and the number of people. For fans of horses and equestrian sports, the registration interface is available at the link below:
http://liveenergypark.hu/hu/lo-es-festmeny-kiallitas-a-szenttamasi-kastelyban/