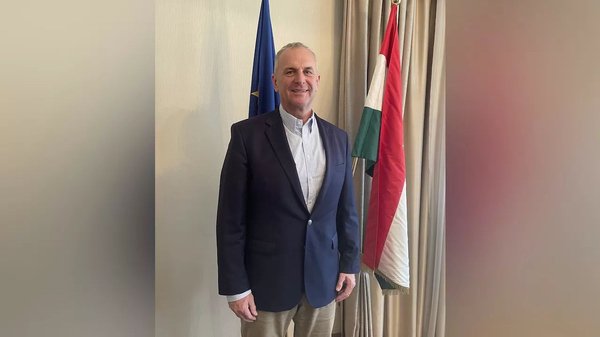 Mr. László Horváth, president and CEO of LAC Holding Zrt and honorary Kazakh consul, gave an interview to the newspaper Üzleti Kazakhstan during his recent business trip to Kazakhstan, which can be read below.
Hungary is among the first in Eastern Europe to sign a Strategic Partnership Statement with Kazakhstan and fully supports New Kazakhstan s approach. During the conversation with the Chairman and CEO of LAC Holding Ltd., the Honorary Consul of Hungary in the Republic of Kazakhstan, the Co-Chairman of the Hungarian-Kazakh Business Council, László Horváth, the issues of bilateral cooperation student exchanges, reciprocal trade in agricultural products and medicines.
Aigul BEYSENOVA
The growing time and adaptability of the hybrids allow the best-yielding varieties to be grown in all regions of the Republic of Kazakhstan, under the given conditions, and bred into their southern or northern regions. Hungarian experts are working to make the agriculture of the Republic of Kazakhstan more productive and more resistant to climatic conditions in certain natural and climatic zones.
Mr Horváth, what are the future prospects for bilateral cooperation in the current situation?
- I have been slowly maintaining business and partnerships with Kazakhstan for three decades. In all cases, I have implemented bilateral cooperation projects, both in the economic, scientific and cultural spheres. Since then, I have been the Honorary Consul of the Republic of Kazakhstan in Hungary. As the co-chair of the Hungarian-Kazakh Business Council, I would like the relations between our countries to be strengthened year by year, to become closer and more effective. In connection with this, my representative office in LAC Holding Ltd. Kazakhstan has been strengthening Hungarian-Kazakh economic trade relations for years. As an entrepreneur, I advertise business opportunities that bring productive benefits to both Kazakh and Hungarian companies.
In 2012, the Hungarian Government introduced the "Eastern Opening" program, which covers the CIS countries and China.
The pandemic, and the whole situation, shows how far-sighted this program was. The advantage of this program is that it is not necessary to create a new one, but to follow the path that has already been trodden, e.g. to continue the path started earlier. I would like to single out the sphere of agriculture, as the sphere of seed production and animal husbandry operates day by day, year by year, decades and decades, hiding long-term prospects.
What agricultural projects do you plan to implement in Kazakhstan?
- Seed production is mainly Hungarian hybrid corn seeds, which have had good yields in recent years in Kazakhstan and other cereal seeds, as well as oilseeds sunflower, rapeseed and soybeans. The seed sector is one of the most professional sectors in Hungary. The professional standards and achievements are also internationally recognized. Work has been going on for many years on various agricultural developments, focusing primarily on domestic exports and Kazakh local production.
In addition to these, there is a so-called: 4 cube project, which supports the creation of an agricultural complex aimed at - an approx. operating on an area of 10 hectares - it could supply 10-30 thousand hectares of arable land in the area. All this requires support for the establishment of a Kazakh - Hungarian Agricultural Finance Fund.
In addition to the cultivation and processing of grain, the agricultural complex is not only the establishment of a feed base for animal husbandry, but also a model for other agricultural sectors, e.g. livestock, vegetable and fruit production and the establishment of agricultural processing plants. Dairy plant, meat plant, fruit processor, the producers of which also have extensive experience in Hungary.
Where are these projects taking place?
- In the years since Mr. Nazarbayev announced the agricultural program, we supported this initiative and launched the foundation - seed projects, growing corn as animal feed. From a livestock point of view, this project can be significantly expanded. Another, no less important issue is the training of agricultural and agricultural professionals.
As for the training of tight professionals in this field, could you tell us a little more detail?
- Currently, quite a few Kazakh students continue their studies in Hungary, including in the agricultural and agricultural sectors. What should be added is that we are trying to prepare not only sought-after professionals in the future, but also educators who can pass on their experience and knowledge in this field to the next generations. It is no secret that there has been a noticeable leap in the development of technology during this period. While digging and other agricultural work was originally done by hand, today the latest generation technologies are used. Accordingly, the price of their acquisition, operation and repair is much higher. Professionals are needed to operate the machines. In the field of animal husbandry, technologies have been introduced in Hungary, with the help of which professionals learn to handle modern equipment from the very first moment, such as feeding and milking livestock, until the end product is placed on the market. All this is done automatically by pressing the buttons and installing the necessary programs.
The Hungarian Törökszentmiklós Mezőgazdasági LTD. machines process the milk so that the dairy product reaches the end user without touching human hands.
Given the climatic conditions, are animals and plants accustomed to the mild European climate able to adapt to our conditions?
- Geographically, the Republic of Kazakhstan is about the size of the whole of Europe. There are different climatic zones here and in Europe. In Hungary, on the other hand, there are many research institutes that work closely with the study of the climatic characteristics of soils in different regions, anywhere in the world. For example, we specially took soil from different regions of the Republic of Kazakhstan to send certain plants to Hungarian scientific institutes for cultivation in certain climatic zones. Regarding animal husbandry, it is well known that the Republic of Kazakhstan is a country of nomadism, where nomadic cattle breeding has developed since ancient times.
What crops would you mention as an example?
- For example, in the northern part of Kazakhstan, where the climate is cold, rye and wheat are sown. In the south, in the Shymkent region, closer to the Chinese border, corn is sown, and so on.
In addition to grain production and processing, the agro-industrial complex is not only the creation of a feed base for animal husbandry, but also for other branches of agriculture: vegetable growing, fruit growing, and the establishment of meat and dairy products, vegetables and fruit processing companies with extensive Hungarian experience.
Have I heard that Hungarian entrepreneurs are also involved in the greening of urban parks in the big cities of the Republic of Kazakhstan?
- There is great potential for cooperation between the two countries in this area, with the aim of rehabilitating contaminated sites by planting plants from large cities polluted with exhaust gases, such as deciduous, coniferous trees, shrubs and other plantations. It exists in Hungary, a so-called Pannon Breeding is a program in which researchers look for solutions to breed crops that are resistant to both field and urban conditions or some extreme climatic conditions. These functions are dealt with by the research institutes I have already mentioned.
Do you have these plans in a sector other than agriculture?
- We have healthcare projects based on Hungarian know-how, which we plan to implement in Kazakhstan.
One such project is the Hungarian invention for the immunotherapeutic treatment of cancer patients. The essence of the method is to teach the patient s own immune system to recognize and destroy malignancies in the patient s body.
Our other project, as pharmaceutical products and pharmaceutical factories are developed in Hungary, together with a Hungarian pharmaceutical company, is the establishment of a pharmaceutical factory in Kazakhstan.
In what other areas do you see prospects for bilateral cooperation?
- All of the above, including educational programs. The Hungarian University of Agricultural and Life Sciences (MATE) is Hungary s leading agricultural training and research university in cooperation with several countries and provides training in many agricultural sectors. Their goal is to establish a similar cooperation with the Kazakh National Agricultural University. In essence, we are helping the two universities to work together for further collaboration.
In particular, we would like the Government of Kazakhstan to provide space for 30 applicants from the Kazakhstan Stipendium Hungaricum quota, especially for agricultural research, preferably through MATE. Their English education is very successful, with the number of foreign students gradually reaching 15%. Encouraged by the successes, they want to start shorter or longer Russian-language courses and trainings online or in person, depending on the needs of the region. MATE is also open to set up a so-called "joint faculty" with the University of Kazakhstan and to organize joint online courses.
https://dknews.kz/ru/chitayte-v-nomere/243314-kazahstan-vengriya-perspektivy-dvustoronnego
https://www.facebook.com/dknews.kz/photos/5061459320618412
Törökszentmiklósi Mezőgazdasági Zrt.